Adventure Tours India
ADVENTURE TOUR PACKAGES
Tavel to India
Luxury Hotels India
CAMPING IN INDIA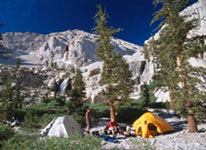 No relaxation method works out if its not done in the lap of Mother Nature. And the best hide out that one can get from the busy city life. You can very feel the soothing effects of the green environs, pleasant countryside climate and peaceful atmosphere.

There are various provisions made by the tourism department regarding proper accommodation facilities given while visiting the camping sites. Other than offering a place to stay the camp-sites are well equipped with catering and variety of other acitivities such as hiking, fishing, nature tours and rafting. So what are you waiting for! Pack your bags and head towards the natural wilderness, Now!

Camping Tours Weekend camping always work as a good options for those who just want to break free from their usual work schedule of daily life. Camping gives you a chance to relax and recharge to worn out batteries by indulging in your favourite past time activities such as angling, fishing, nature walks and safari.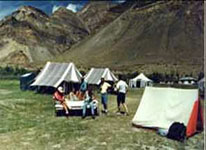 From the varied alternatives that you can take up in your weekend camping include fishing camps, staying at the forest houses and Jungle lodges or may be you can plan out a trip of hiking with your buddies to a place you are dying to explore. Camping is quiet hassles free activity and if you have already pre-planned your camping trip or taken up a weekend holiday package then do head for the nearest camp site of that particular place.

Whether you have a pre-planned weekend camping trip or taking up a package, always keep a time schedule that you can follow. It's always good to camp in a group and better take guides with you if you are taking up a campsite of an unexplored site or place you are not exactly aware about.

Its always a better option if you take up a weekend package by a tour operator or a travel service because they always provide professional guides and camp masters to help you out in case of emergency whenever you got stuck in you little weekend adventure trip. The campers are usually permitted to bring one vehicle into camp to unload at their campsites or lodge. All vehicles must be parked in the camp parking lot for the remainder of the weekend. Always remember to keep a to follow the speed limit, let others also enjoy their weekend break.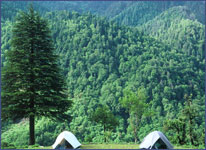 Potable water is always a good option on the camping trip. Do not clean your dirty dishes at fresh water sources. A chlorine sanitizer should always be used before and after each use of cooking equipment. Clean water is useless and dangerous in a dirty container. All garbage must be bagged and should be thrown in a trashcan and please do not litter.

Injuries can happen anytime so do carry a first aid kit with you. Better not use the wood as fuel and use one fire ring for cooking and one for campfire that is if the weather conditions permit. The use of electric heaters, propane heaters, kerosene heaters or hair dryers is prohibited in a camp. Following item's are prohibited on a camping trip: alcoholic beverages, illegal drugs, fireworks, firearms, other than those that are part of an approved shooting activity