Adventure Tours India
ADVENTURE TOUR PACKAGES
Tavel to India
Luxury Hotels India
HOT AIR BALLOONING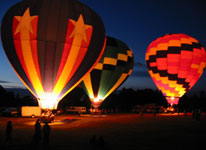 Hot air ballooning as an adventure sport started in the year 1783, when two French brothers, Joseph Michel Montgolfier and Jacques Etienne Montgolfier, created and set aloft a 17.37-m high 'fire balloon' from the courtyard of the Versailles palace. This massive balloon did not carry human passengers but a sheep, a rooster and a duck.

The balloon landed safely at a distance of 3.2 km from the Versailles palace after a flight that lasted eight minutes. In the same year, a daring person by the name of Jean Francois Pilatre de Rozier along with his companion Marquis d'Arlandes decided to travel in a hot air balloon. It became the first journey made by man through air, which was powered by steam/hot air. This historic event occurred in the beautiful city of Paris and the success of this flight gave birth to the sport of hot air ballooning.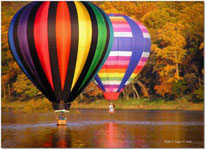 Hot air balloons created during the period were generally known as Montgolfier balloons. They were also referred to as 'fire balloons' because they carried a brazier containing burning coals, which produced steam/hot air. However, these balloons were dangerous because the brazier could alight the fabric of the balloon. Apart from the constant hazard of fire, hot air balloons also faced some other problems. They would come down to the ground once the steam/hot air filled within them cooled down. Moreover, they could only move in the direction of the wind and not against it. Hot air balloons used today for flying are a highly refined version of the Montgolfier balloons that flew in the 18th century.

Ballooning In India, hot air ballooning as an adventure sport is quite new. The Balloon Club of India, which was established in 1970 in New Delhi, is the premiere organization pertaining to this adventure sport in India. The sport is rapidly gaining popularity among the adventure seekers.