Adventure Tours India
ADVENTURE TOUR PACKAGES
Tavel to India
Luxury Hotels India
MOTOR BIKING IN INDIA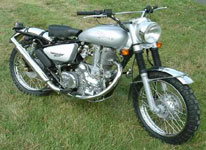 Motorbike Tour in India Traveling around India by motorcycle is fast becoming popular, and the number of gallant souls who have covered the long northward haul to Gangotri and Leh is mounting every year. Imagine riding your favourite bike among rugged mountains embracing a lush green valley amidst the most beautiful sunsets! Sounds like a dream come true? If it does, motor biking is the right recreation for you.

Looking for a Motorbike Tour that puts you at easy with not much taxation to challenge yourself - here is an experience - the serpentine roads keep you wondering as to what is next road bend like, but at the same time metalled road condition keep the bike moving at a regular pace with the cold breeze of the spring & autumn season relaxing us. No harsh climates - no acclimatisation to high altitudes - a slow pace of life on the lower Himalayas on the Alpine Motorbike tour. Easy going days with pleasant evenings at campsites, a bottle of beer by the bonfire, makes this a easygoing and relaxed motorbike holiday.

A motorcycle is speed and precision personified, with the possessor of the machine turning into a speed hawk, seconds after he or she spurts on the engine.It is an experience alien to the sense of safety and stability enjoyed by four-wheel drivers and participants of jeep safaris.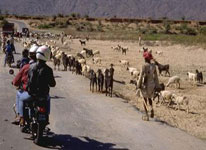 The holidays Destinations of India includes the tracks of motorcycle safari in India like Desert of Rajasthan, Ladakh, and foothills of Himalayas. It has to be accepted that a participant to motorcycle safari has to be very well prepared for the conditions and climate while undertaking this part of adventure tourism in India. A rivet jacket with interior padding is a must as it might not be very cold in the motorable months of Ladakh but precaution is the key to safe sailing. Then, sunglasses and the attendant sun screening equipment is a necessity if the weather during motorcycle safari in India gets a bit warm.

A rajasthani safari peculiarly begins at Delhi with the delivery of mobikes to the daring travelers marking nemharana as the starting point of this motorcyclcle safari in India as part of this unique aspect of adventure tourism in India. This motorcycle safari travels through Bikaner, the fortified town of Jaisalmer, culminating in Agra.

Motor biking can be great fun, just watch out for traffic that's not used to a lot of discipline. There's nothing like exploring India on a bike, at your own pace and will. India offers the motor biker a wide choice of destinations, right from the rustic North, the enticing East, the multi-hued West and the ever-intriguing South. Riding through natural terrain or in small city lanes is an enriching experience for the rider.