Adventure Tours India
ADVENTURE TOUR PACKAGES
Tavel to India
Luxury Hotels India
Rock Climbing India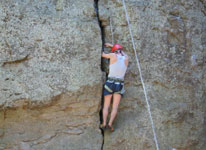 Rock Climbing in India, initially began as training for mountaineering and turned into an exciting sport about 25 years ago. Rock-climbing is largely balance and not strength. Balance also determines the value of strength by how much energy you spend actually climbing.

Sheer rock faces, ideal for rock climbing, can be found in many areas. The Aravali hills have good climbing faces at Dumdama, Dhauj and Nuh, all situated near Delhi. The Western Ghats have Mumbra and Dudha beyond Pune. Himachal Pradesh offers the Manali Valley, Manikaran and the Rohtang Pass. Rajasthan has Mount Abu and Sariska which have gentler rocks. In Karnataka there are the Chamundi Hills.

High-altitude climbers will enjoy the rock faces at Sonmarg in Kashmir and Gangotri in Garhwal, Uttaranchal. These trips are advisable in the summer and autumn months. Certain climbs can often prove gruelling and tough, but the magic of the beautiful landscape, the cool weather and pure air keeps the climber's spirit up.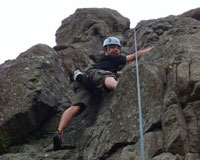 Most climbs are graded from 1 to the 30's. The highest grade climbed is currently 32. Serious climbing starts around 10. Beginners normally do the early tens and then move upwards. If you are taking up climbing adventure for the first time, it might sound like a hazardous and rash activity. The sport has undergone some progression in recent times, however, making it safer and easier to learn than ever before. Climbing is a sport of self-discipline, vigor, stamina and finesse that can provide a great deal of personal gratification and, at times, stimulati.

There are several distinct types of climbing- including ice climbing, rock climbing, mountaineering and mountain climbing. Over the period of time the climbing has become fairly an advanced sport that has reached its height through its different level courses with a qualified instructor.