Adventure Tours India
ADVENTURE TOUR PACKAGES
Tavel to India
Luxury Hotels India
SKIING IN INDIA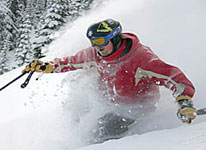 Skiing in India The hills of India have all the ingredients for adventure packed with excitement and thrills and lots of unexplored valleys, towering peaks and snow-capped mountains and glaciers. A splendid combination of flora & fauna and vast tracts of virgin snow awaits you.

But before you take on your next expedition of skiing in any place in India, there are few things you have to keep in mind. Skiing is not just about putting on warm clothes and head towards the snowy slopes with your skies. Himalayas is a region of extremes and for trying out a sport like skiing in this region, always asks for certain things that every skier should take into consideration.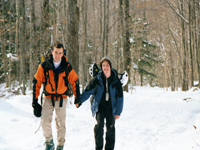 The basic skiing gear that is counted for skiing is the flexibility of the clothing. The fabrics that can keep the body's temperature balanced according to the outside climate. Stretch fabrics have a more relaxed and versatile capacity, which is basically required while skiing down a snowy mountain and doing extreme skiing.

Better fitting styles and waterproof wear are a better option for skiers for the wider range of motion. While selecting a ski jacket go through this checklist: waterproof, breathable fabrics, with taped seams, venting zippers and insulating stretch components for comfort. Other skiing gear items are ski goggles, ski helmets, ski socks and skies.

Googles are an essential to wear while skiing because the glare off the snow during bright days exposes skiers to harsh UV rays, having tinted lenses with UV protection can enhance your visibility. Extreme weather conditions makes skiing on the slopes even more difficult if you do not have decent ski goggles with you.

A comfortable helmet is always a good option and provides a good protection while skiing or snowboarding.

Auli in Garhwal Himalayas in Uttaranchal is also counted as another major skiing resort of India. It has fine snowy slopes, magnificent fine forests and overlooks the towering Himalayan peaks of Nanda Devi, Kamet, Mana Parbat and Dunagiri.

And who can forget the ultimate destinations such as Kufri, Narkanda, Manali in Himachal. The Manali Region in Himachal Pradesh also offers scope for winters as well as summer skiing. It has excellent natural slopes and in the summer months has limited skiing possibilities at Narkanda. Last but not the least is Kufri, which has always been a favourite among ski lovers who visit Shimla in winters. So prepare your skies and zoom through the snow. Gulmarg is known as Kashmir's premier upland hill resort at the the altitude of 2, 730m and offers one of the largest and best equipped winter sports opportunities in India.


Auli skiing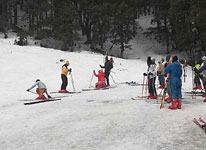 In the summer, Auli is inviting but in the winter it is irresistible with its snowy mountain slopes and skiing facilities. Auli can be reached by road or ropeway from Joshimath. It provides an excellent panoramic view of the giant mountain peaks like Nanda Devi, Kamet and Dunagiri. From January to March, the Auli slopes are usually covered with a thick carpet of snow, about 3m deep. The stretch of 3-kms with a drop in elevation of 500m is considered to be a very good skiing ground by international standard. The background of lofty snow clad mountains heightens the sprit of the skiers.

To attract attention, skiing festivals are also conducted at Auli. These now include the national championships in the months of February and March, organized by the Winter Games Federation Of India. While skiing is the chief attraction at Auli, there are other attraction like cable car rides and rope lifts, or spend the day outdoors building snowmen, or having snowball fights.

Facilities For Skiers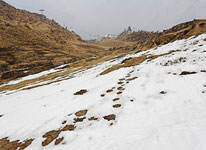 The 500m ski-lift system, the longest cable car in Asia, or the trolley, as it is known locally, connects Joshimath with Gorson, above Auli. A short distance beyond Gorson lies the hill of Gorson Top, which provides excellent mountain vistas and is on the 24-km trek to kauri Pass. From Gorson, Auli's only chair lift travels to the base lodge, which is a small building that marks the starting point of all the ski runs.

An 800m long chair lift connects the lower slopes with upper slopes in Auli, making it easy for skiers to zip up in moments. Once reaching the ski start point they can ski down rapidly, while other can walk down the snow-paths at leisure. There are two snow-beaters imported from Germany, for beating the snow for skiing.

The slopes have been dressed and improved making them an ideal for hosting skiing festivals and competitions of national and international standards. Just the cable car ride is enough to justify a trip to this winter resort, with the snow-covered valleys below giving beautiful views of the Himalayas on all sides.


Heli Skiing in India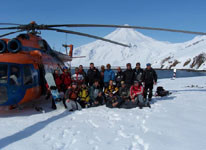 What is the difference between normal skiing and Heli Skiing? Well, a helicopter is involved in the latter. If you just don't care about the risk part of high altitude skiing and have got the courage against all odds then, Heli Skiing is just for you. The helicopter is going to leave you at the top of a snow capped peak and from there you just have to criss-cross your way downward.

This sport challenges the risk-taking explorer in you, as you have to ski down through unknown routes and ridges. Indian Himalayan region is just the best way to start off this thrilling sport. Some of the best choices include Hanuman Tibba, Deo Tibba, Rohtang Pass and Chandrakhani Pass near Manali.

Safety is always important when you are planning to have skiing expeditions on the glacial regions as there are potential dangers involved over their. There are always chances to have Avalanche in the snowy areas, that's why make it a point to check upon the snow conditions and weather information from the sports associations and information centre of that particular region.

Skiing stability not only changes from mountain range to other mountain range but from slope to slope. That's why its always better to have a guide or ski instructor, who have a good knowledge about that skiing area The guides' decisions are paramount and should be respected always.

The second important safety fact is flying. Helicopter skiing pilots are seasoned professionals who are thorough with the winter flying conditions within the mountains. They are alert to the onset of sudden weather changes and work together with your guide to ensure maximum safety. Always remember that the snowy regions are prone to accidents, so always pre-plan your ski trip keeping the precautions in mind.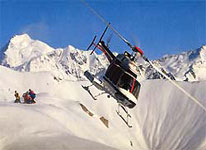 Major Regions Of Heli-Skiing In India Himalayas is full of ultimate skiing destinations and if you an extreme sports lover and experienced enough to climb the glacial regions, then take up you heli skiing venture among the Indian Himalayas. Consistent heavy snowfalls and variety of mountain ranges, the Himalayas provide the best attributes for any skier. In addition to the numerous ski resorts throughout the Himalayan region, you can also find the ultimate skiing experiences of heli skiing over here.

For the first timer heli skiing at the remote locations is always an experience to remember. Remote destination lodge such as the onces located in Manali, provide multiple day packages and are considered to be the best heli skiing regions of the Himalayas.

The Manali heli skiing expeditions involve helicopters, which are going to drop keen skiers onto peaks as high as 6,500m. The high peaks reduce the wind speed at lower levels where one skis, resulting in consistent, light and powdery snow. Powder skiing is easier to learn with the new thick kind of skis, especially if you are new to skiing.