Adventure Tours India
ADVENTURE TOUR PACKAGES
Tavel to India
Luxury Hotels India
YOGA & MEDITATION IN HIMALAYAS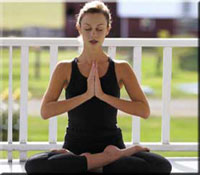 Amidst the stress of the daily activities our mind yearns for tranquility. Often it is temporarily attained by a walk on the seashore or by gazing at the soothing sunrise. So what better way to relax than to take a break and opt for the soothing activities yoga and meditation? Worst when its vacations we find yourself doing the same kind of the things, managing all essentialities, attending this thing and that thing. We don't recommend you to escape all this but you sure need a break and there is no ideal way of doing it other than go for a peaceful destination and meditate for sometime.

A sage, Patanjali, put forward yoga as a system of philosophy. The common form of Yoga is also referred to as the Ashtang Yoga, which comprises of eight basic features namely Yama, Niyama, Asana, Pranayama, Pratyahara, dharna, dhayan and samadhi. Each feature has its own significance. Yoga promotes the universal disciplines of truth, self-control, non-violence, non-stealing and non-greed. The second feature, Niyama, endorses human values of contentment, self-study, penance, cleanliness and surrender to God.

Asanas are the various yogic postures that are to be performed to keep the body fit and fine. The management of the breath is covered under the aspect of Pranayama. The feature of Pratayahara is practiced to compose the mind and alienate oneself from the five senses. Dharna and Dhyan are about concentrating and meditating and the final aspect of Samadhi refers to the ultimate state of oneness with God.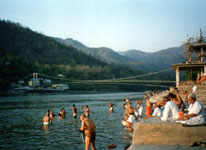 Healing one self through yoga is neither instant nor very pleasant. The common people may practice yoga to cure the common modern day ailments like Asthma and Arthritis. The objective of this topic is to furnish reliable information about these places that you would like to visit, places known all over India and abroad as best for meditation. Located at these places are some of the popular yoga and meditation centres.

Rejuvenate yourself, the most effective way, just as our saints and Sadhus have been doing for centuries. India is known as the country where Yoga & Meditation are a way of life. India, though taking impressive strides towards urbanization and industrialization, still has locales where the concepts of Yoga & Meditation are an integral part of human life. We will take you to the vicinity of Rishikesh, where luxury is blended with natural beauty and everything is in tune with nature.